Surgical Notes Develops Mobile Transcription Application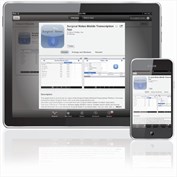 Surgical Notes Develops Mobile Transcription Application to
Improve Completion of Physician Operative Notes

App turns iPad and iPhone into wireless dictation device, providing quick action on op notes and shortening revenue cycle
DALLAS – Surgical Notes, a nationwide provider of transcription, coding, document management, and other information technology services for the ambulatory surgery center and surgical hospital markets, has announced the launch of a mobile transcription application for use on the Apple iPad and iPhone. The app provides a number of significant benefits to clients contracting with Surgical Notes for transcription and coding services.
When installed on the iPad, the mobile transcription app provides physicians with HIPAA-compliant access to their patient schedule, which is pulled directly from the practice management system. Once within the schedule, physicians choose a patient entry and are taken to a screen where they can dictate the operative report directly into the iPad.
Upon completion of the dictation, the audio file is uploaded to Surgical Notes servers. Once the dictation is transcribed, a Surgical Notes account manager proofs the dictation and sends it back to Surgical Notes' proprietary transcription portal, SNChart. Via the iPad app, physicians can then review, edit, and finalize the operative report. They have the option to electronically sign the individual report or batch sign multiple reports.
The iPhone version of the mobile transcription app allows physicians to view their schedule and complete dictations.
"The app was developed specifically for physicians, with a simple workflow design that makes dictation and completion of operative reports convenient, quick, and easy," said Randy Bishop, Chief Operating Officer for Surgical Notes. "Not only does the app provide these tremendous benefits for physicians, it's also extremely helpful for staff members tasked with medical records completion. Rather than carrying stacks of paper records to physicians for their signature or waiting extended periods of time for signatures, staff can present the iPad to physicians, who can electronically sign and approve reports within seconds."
The app, available now through iTunes, is already in use by physicians in surgery centers and offices nationwide. There is no additional cost to Surgical Notes clients for use of the app.
"We view the app as a tool that helps our clients significantly reduce the time it takes for physicians to complete dictation and operative reports, which reduces the time for claims submission," said Mr. Bishop. "The app ultimately shortens a facility's revenue cycle and decreases days in accounts receivable. At Surgical Notes, we strive to deliver the best transcription and coding services in the industry. Developing new resources such as the mobile transcription app is part of our ongoing efforts to improve our operations and bring greater cost savings and efficiency to our clients."
An Android version of the mobile transcription app is under development.
About Surgical Notes, Inc.
Surgical Notes is a nationwide provider of transcription, coding, and document management applications. The ambulatory surgery center industry's largest management companies and roughly 20,000 healthcare providers trust Surgical Notes to provide customer focused software solutions that eliminate manual processes, streamline workflow, and accelerate the revenue cycle. Founded in 1999, Surgical Notes is an industry innovator and leader. For more information, visit www.surgicalnotes.com.
Media Contact:
Karena Stephens
Marketing Manager
Surgical Notes
(800) 459-5616